SMARTWAX PINK KIT
100% Pure Carnauba Based Wax (Cleans, Shines & Protects)
This kit is a limited time offer on remaining SmartWax waxes & sealants as the range is being discontinued by our store.
Chemical Guys Orange microfiber applicator included for easy product application. 
Fast Facts About SmartWax
Easy on, easy off formulation

Polishes, protects and shine all in one application

Can be applied on wet or dry surfaces

Restores original shine

Adds gloss and depth and creates a superior mirror finish

Provides UV protection and helps prevent water spots

Non-smearing and no powdery residue

Removes tree sap, water pots, environmental fall out, bug and bird marks and more

Clearcoat safe; can also be used on glass, stainless steel, fiberglass, chrome and carbon graphite

A protective coat that lasts and a shine that will certainly make you smile. Manufactured in Southern California, SmartWax is formulated from the highest raw ingredients to deliver premium results at an affordable price.
SmartWax is a 100% pure carnauba-based wax and polish formulated to clean shine, restore and protect your paint in one easy step.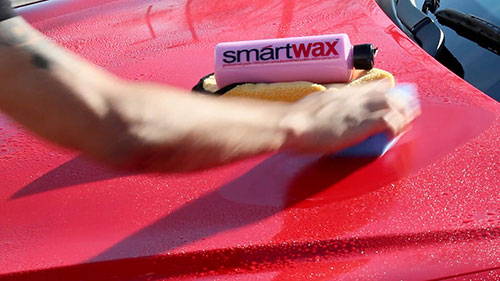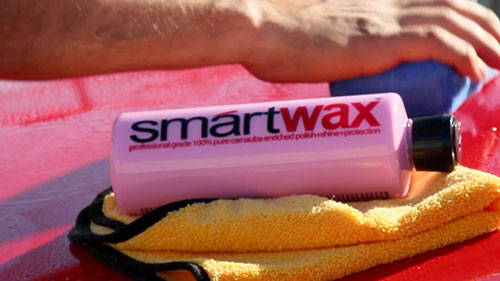 New molecular chemistry formulations give SmartWax a long lasting wet look shine and UV (40) sunscreen protection, improving resistance to degenerative environmental elements.
SmartWax easily removes tree sap, water spots, environmental fallout and fine paint defects. The surface is left super-slick with a brilliant mirror-like reflective finish.
Formulated for non-stick protection, SmartWax proprietary blend of space age polymer fluids create an elastic, heat and water resistant coating. Smartwax bonds intently and easily wipes off in seconds, delivering an effortless, crystal-clear, high-gloss finish. The ease of use, protection and overall effectiveness of Smartwax is unmatched.
---
For hand or machine use

The finest wax & polish for your car, airplane, boat, motorcycle or RV

Can be used on glass, stainless steel, fiberglass, chrome and carbon graphite
---
Shake well

Pour onto cloth

Apply to wet or dry surface

Allow to haze

Wipe with clean cloth

Re-apply as needed