SmartClay Blue Clay Bar Surface Cleaner (blue 100g) in box
About SmartClay Bar
SmartClay is a paint cleaning and smoothing system that removes bonded contamination without reducing your clear coat! SmartClay (100g bar) is an amazing new paint finish maintenance tool that easily and safely removes the bonded contamination that washing leaves behind.  With SmartClay, insect remains, paint overspray, industrial fallout, brake dust, tar, sap and filthy road grime are erased away like magic.  It's amazing! Your car's paint will never feel smoother or more slippery.  SmartClay smooths paint better than traditional paint polishes, yet it does not reduce clear coat thickness.  Your paint emerges perfectly clean and the clear coat retains its full depth and protective beauty.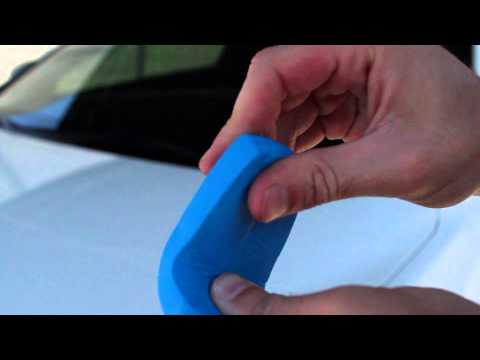 Use with SmartDetail
Use SmartClay in conjunction with SmartDetail to lubricate the paint surface.  SmartClay floats (hydroplanes) over the paint finish, removing only the protruding contamination.  SmartDetail's ultra-slick lubrication prevents paint marring and leaves a lightly waxed, high-gloss finish. SmartClay is the first step in proper paint care.
Smart Use
Wash auto prior to use of clay
Flatten clay into palm of hand
Spray SmartDetail clay lubricant on bar and on 2″ by 2″ area to be cleaned
Glide clay bar gently over well lubricated surface in back and forth motion until area is clean
Re-mold clay to expose clean surface
Discard clay if dropped or when clean surface can no longer be exposed
Always keep surface well lubricated while in use
Store clay in storage box in cool area